Reviews Of Benito's Hot Sauces, Syrups And Dry Rubs
Here are reviews of our products from chili pepper fanatics and gourmet food connoisseurs from around the world. If you do your own product reviews for a website or magazine please send us some mailing information so we can send you some sample bottles to review. Thanks… – Ol' Benito
Chipotle Infused Maple Syrup
December 11, 2011
So….let's make some super yummy and delicious bacon.  Place your bacon, single layered, on a baking sheet.  Drizzle with maple syrup.  Place the tray in a pre-heated 250 degree oven.  I'm not sure how long it cooked but I know that I had to keep upping my timer.  Put your timer on for 10 minutes and then keep checking.  My son likes his bacon a little undercooked so I took out some for him and placed the rest back in the oven.  I like my bacon crispy – where it can stand straight up on it's own.
Here is the sweet, sticky and "make you moan" Bacon.  I was actually surprised that I couldn't taste the chipotle very much in the syrup.  Which I'm on the fence if that's a good thing or bad thing.  I was worried that they were going to be too hot for me but instead I was able to eat them with no problems.  I'll be trying the syrup on other things, like pancakes and baked beans.
Every once in a blue mood I will come across a product that I absolutely can not stop using, and this is one of them. I have been going back and fourth with the thought that this could be Peppers and More's  choice for product of the year. I know that this is not your typical choice for product of the year but I am going with it. This is a product that can be used many different ways. This adds a great kick to your morning breakfast and makes for a sweet topping for your ribs. I have gone as Far as to use it with my morning cereal.
This morning Iwill be going with some biscuits in the dutch oven. This would be the first time that I try to make anything in a dutch oven so I can't wait to see how this turns out. I  constantly kept checking them to make sure Idid not burn the tops or the bottom. I have to say that this Fat Bastard makes some good tasting biscuits. What I really enjoyed about this sauce was that it is not over the top with heat. Just the right amount of chipotle with some of the best tasting Maple Syrup that I have had.
In the afternoon I went and picked up some ribs. I have seen many reviews using this product but I have not seen one done with ribs. With that said I fire up the pit. The sauce coated the ribs nicely while leaving a nice crust all over the rib. You really will not come across to much heat here but there is just enough to keep you eating. If you enjoy a nice Country style rib with some nice sweet Maple Syrup than this is the web site that you should be running to …….
http://www.benitoshotsauce.com/reviews-of-benitos-hot-sauces/
Comments (3)
We received a nice surprise in the mail recently; a bottle of Benito's Chipotle Infused Vermont Maple Syrup.
When we first unwrapped the bottle, we thought, "Hmm, we're not really crazy about heat with our sweet, but we love maple syrup", so we decided to give it a try. The first taste was a warm, smokey sweetness, with a nice heat that lingered for just a moment.
The first words out of my mouth were "I see pancakes and sausage in my future!"
This morning, we cooked up sausage patties (we used a mild version so we wouldn't affect the heat level of the syrup) and pancakes. With just a light drizzle on the pancakes, we were brought back to sitting by the campfire eating pancakes and sausage cooked over the flames. Smokey, sweet, with a nice mellow heat filling my mouth, I wound up dunking the pancakes into a bowl of the syrup. It was so good, I had to sit right down and write this review.
As you can see from the photos, this is a thin syrup, with a lovely amber color. According to the label, Ol' Benito smoked the peppers himself:
"The pure maple syrup in this product was harvested by old-school Vermont sugarmakers in Jeffersonville, VT. It has been combined with the essence of organic smoked jalapenos grown with love at Foote Brook Farm in Johnson, VT. I smoked the jalapenos myself with a mixture of half hickory, half mesquite wood. It has a unique hearty smokiness, with a subtle heat. it goes well with any kind of bbq, chicken, pork or beef, sweet potatoes, vanilla ice cream, and breakfast sandwiches."
Final impression:
WINNER! Perfect blend of sweet, smoke and heat.
Ingredients:
VT Maple Syrup, organic chipotle peppers.
You can find this and Benito's other sauces over at BenitosHotSauce.com
And check out his 1st Place Scovie 2011 award winning Vermont Maple Chipotle Dry Rub
Our pals over at Benito's Hot Sauces sent me two of their new products the other month. These are two products that only seemed natural coming out of a company based in Vermont whose maple is some of the best around. That's right, I've got in my possession two pepper infused maple syrups. One with Habanero and one with Chipotle. This was an especially fun review for me to do because maple syrup sends the hyperactivity portion of my ADHD into overdrive, sending me bouncing off the walls for hours. WEEEE!!!!
Benito's Chipotle Infused Maple Syrup Ingredients: Vermont grown smoked Jalapeno peppers and Pure Vermont Grade A Dark.
We'll start off with the mild, Grade A dark amber, Chipotle infused one first. The side of the label states that the Jalapenos were smoked over both hickory and mesquite by Ol' Benito. Holding the product up to the light, I do see some small flecks of pepper floating in the bottle.
Right up front is that fantastic maple sweetness which slowly melds into a complex sweet and smokey flavor. I get aspects of both the mesquite and hickory but the mesquite ends up winning out in the end. The Chipotle is both subtle but noticeable, a duality that complements this product. The heat is also subtle on this, just a faint side of the tongue, back of the throat burn.
Chipotle Infused; Flavor: 10, Heat: 3
Benito's Habanero Infused Maple Syrup Ingredients: Vermont Grown Habanero Peppers and Pure Vermont Grade B Maple Syrup.
As we move onto the Grade B, Habanero infused Maple Syrup, my hands are starting to shake and I'm having a hard time sitting still to continue. But I'll resist the very strong urge to run around in circles and try to finish up. In retrospect, I should have split up the writing of this review into two sessions to limit my exposure to this attention span shortening, hyperactivity inducing, sugary substance…but I've already doomed myself. Minds well see how far down this rabbit hole goes. Oh look, I'm ranting already. Sorry.
Unlike it's milder cousin, this sauce doesn't have any flecks of pepper in it. Just thick, ruby colored goodness! Once again we start out with the maple flavor but it almost instantly switches over to a fruity Habanero flavor. It continues to flip flop between those two flavor all the way into the aftertaste. The Habanero actually makes the syrup taste a little lighter than I'm used to for Grade B syrup. The heat hits the center of the tongue and then moves to the back of the throat. It's slight but more noticeable than the Chipotle version.
Habanero Infused; Flavor: 9, Heat: 3.9
Overall, I'm thoroughly impressed by these latest products from Benito. They are spot on, uncomplicated in its simplicity, flavorful, and delivering exactly what the label states. It's not a maple flavored hot sauce masquerading as a maple syrup like some pepper infused syrups I've had. What it is, is a Maple Syrup with accents of peppers. Great on pancakes, mixed into scrambled eggs, on a spoon, or used as a bacon dip. Keep up the great work, Benito! Now, if you'll excuse me, I have some walls I need to vibrate through.
Review – Benito's Habanero Infused Vermont Maple Syrup
Scott Roberts November 2, 2010 at 6:18 am food Digg Share
Ladies and gentlemen, Benito's Habanero Infused Vermont Maple Syrup is a very pure, simplistic product that flat out works.
It has merely two ingredients: Pure Grade B Organic Maple Syrup from Palmer Lane Maple in Jeffersonville, VT and Organic Habaneros from Foote Brook Farm in Johnson, VT.

It's not meant to have a swirling, complex melange of flavors. It takes two major tones – fruity and spicy habanero peppers and rich, sweet maple syrup – and marries them together almost perfectly.
Really, the distinctive taste of capsicum chinense shines through wonderfully, as if you're eating spoonfuls of diced habanero chiles without a lot of the eye-watering heat or bitterness that's characteristic of the pepper. Habaneros are my personal favorite to meld with sweet elements in sauces and syrups, and Benito's Habanero Infused Vermont Maple Syrup is another exemplary example of that fusion.
The maple syrup component itself is very good – not too sugary, not too strong and just the right amount of sparkle to counterbalance the habaneros.
My first food test was a classic American breakfast: pancakes and pork sausage. Fantastic! After scarfing this down, I wanted more (but I had to obstain 'cause I'm trying to watch my girlish figure). The next morning took care of the rest of bottle.
I can also see Benito's Habanero Infused Vermont Maple Syrup being used on ice cream, as well as employed as a spicy, sticky glaze on meat.
How's the heat? You'll definitely feel some burn, although this doesn't approach some of the scorhcing habanero hot sauces on the heat scale. From 1 to 5, with 5 being the hottest, this spicy syrup would rate around 2.5.
What's the big fault with this product? The bottle is too small! Any chilehead who's a fan of syrup will find himself or herself using the five fluid ounces of this within a day or two. A large, economy-sized bottle may be too cost prohibitive for customers to buy (and for Benito to produce), so unfortunately this may be relegated to an occasional-use, gourmet-only item.
Still, it should not deter any foodies who love the flavorful and the fiery to pick up a few bottles when they want to splurge and really enjoy a great product.
Overall Rating: 4.5 stars out of 5 stars
Benito's Habanero Infused Vermont Maple Syrup is $10.00 per bottle plus shipping at benitoshotsauce.com.
Review of the Old Bricktucky Cayenne and Benito's Mango Habanero by Paul "Chile" Brown 5/5/10 (www.manmeatgenius.com and www.hotsauceblog.com )
BENITO'S WING-A
-DING DAY
Buffalo wings are a staple food at the Chilebrown household. There are so many variations and techniques to prepare this simple dish. There is a common theme involved in this preparation. Butter and hot sauce are the similarities in our numerous wing dishes. Today we are using two sauces from 'Benito's Hot Sauces'. Benito's makes wonderful hot sauces using organic ingredients and no salt. We have 'Old Bricktucky Cayenne and Mango Habanero'. We will rub some chicken wings with some '
Survival Spice'
and grill them over a medium hot mesquite fire. They will then take a bath in some butter and hot sauce. Simple, but delicious!

Benito's Mango Habanero has been described as a 'tropical garden in your mouth'. This sauce has Mangos, habaneros, vegetables and lime juice. This sauce is sweet with Mango flavor and only has a medium pepper bite despite the habanero peppers. Benito has the skills to combine just the right amount of ingredients with lime juice. No salt is in this sauce. The same goes for the Bricktucky Cayenne. This sauce is very complex. There is a lot of flavor going on here. Cinnamon, Cayenne, vinegar, tomatoes, paprika and vinegar are some of the ingredients. The heat level on this sauce is going a small notch over the medium level. This sauce will be perfect for our wings.
The wings were cooked and then dipped in the two butter and sauce combinations. The Mango Habanero wings were on the sweet side. The flavor was of mango and onions with a warming effect from the habanero peppers. The butter made these flavors rich and decadent. The Bricktucky was my favorite. This sauce was finger licking good. There were so many components that jumped all over your taste buds. Cayenne pepper warmed your tongue while a hint of cinnamon grabbed your curiosity. It was like I could taste the tomato's and onions separately but they melted with all the other ingredients. When this sauce was applied to the smoky wings, a marriage in Heaven was created.

Benito's makes a lot of wonderful sauces. They are a welcome addition to our pantry. Chicken wings are just one of the uses for these sauces. We served our wings on a plate with extra dipping hot sauce. Some carrots, celery and blue cheese dressing accompanied these chicken appendages. We served a side dish of Asparagus, fava bean and pasta. It was a perfect spring day.
Video Critique of Benito's Original Naranja from  "I Love It Spicy.com"…by Scott Roberts 4/20/10
http://iloveitspicy.com/2010/04/23/scotts-favorite-hot-sauces/
Review – Benito's Maple Chipotle Vermont Rib Rub
One of my favorite sauce makers, Benito Maniscalco, has ventured outside of the liquid flavoring world and is trying his hand at dry rubs. With a track record as beloved as his – from my point of view, of course, I was raring to test out his salt-free Maple Chipotle Vermont Rib Rub on some 'que now that the weather has gotten warmer (what can I say? I'm a fair-weather barbecuer).
Ingredients:
Organic Vermont maple sugar, organic chipotle flakes, organic ground chipotle, organic cinnamon, organic black pepper
Appearance and Texture:
Maple Chipotle Vermont Rib Rub comes in a little flip top jar, with one of those lids that seal when you hook the metal wires and clamp it down. For a second or two I wondered why ol' Benito didn't simply opt for a regular plastic shaker bottle. After staring at the size of some of ingredients, I thought perhaps that Benito thought that some of pieces wouldn't make it through the plastic lid's holes, even if there was also a larger "pour" opening. There's always a few nitwits out there who would ruin the party by attempting to shake out this rub through the smaller holes, thereby getting only the tinier granules of sugar, cinnamon and black pepper.
Now for the actual critique of this rub's texture. The size of the particle vary greatly, from huge chunks of chipotle peppers and seeds to the itty-bitty pieces of cinnamon dust. Inside the jar the spice mix was not blended very well (partly due to settling), and since the jar was jam-packed to the rim, it was not to impossible to shake or stir the rib rub. The only immediate solution was to pour some out on the meat and mix it directly on it. My suggestion would be to pack a bit less in each jar or tweak the blending process so that the ingredients are better intermingled.
One other point about the texture was the wide array of contrasting colors. You get the blackish chipotle crumblings sitting amongst the light sugar and seeds, and all of it was accented by the dots of brown cinnamon. The look was rather unique and pretty interesting.
The Cook and the Taste
I doused a slab of baby backs heavily with the Maple Chipotle Vermont Rib Rub about 2 to 3 hours before cook time. After watching the competitors prepare their meat on TLC's BBQ Pitmasters series, I've learned not to be shy with the rub. There's nothing elegant about applying this – just dumped out a bunch out of the jar and spread it around by hand: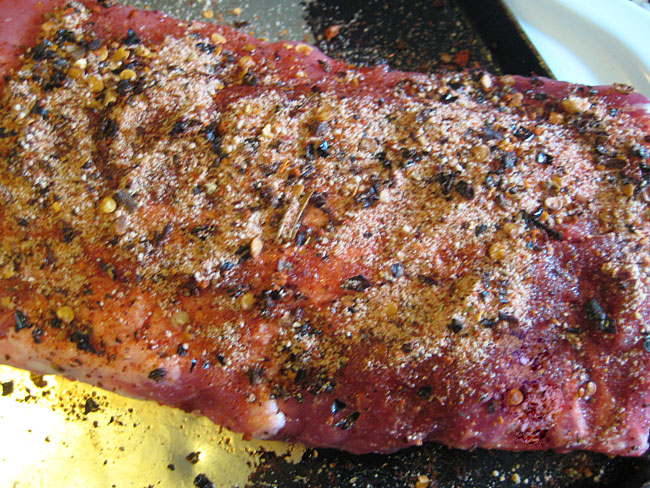 I sprinkled an additional dusting of Maple Chipotle Vermont Rib Rub to cover any bare or thin spots about 20 minutes before slapping these bad boys on the smoker. After cooking these between 220 – 225 degrees over applewood smoke for about three and a half hours, the rack of ribs was removed and let to sit for approximately 20 minutes while the sides were finishing up.
The ribs had a very nice coating. The sugars had caramelized well without burning, and in concert with the dark chipotle flakes, provided a mostly dank, almost black bark on the rib meat.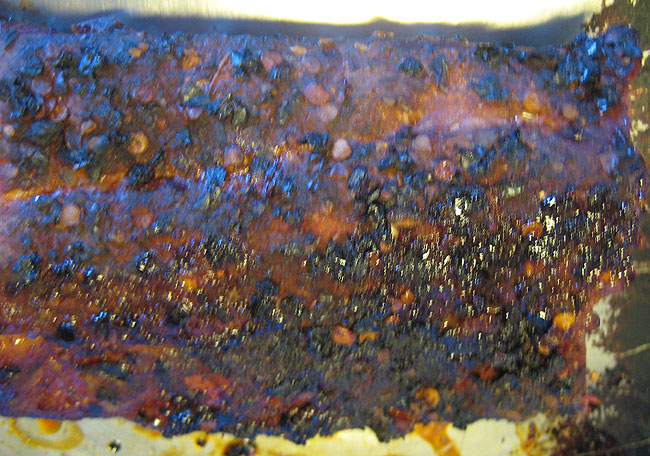 It was time to sink my teeth into one of these dry rubbed ribs. The first flavor to bust through was the sweet maple. A few seconds later I noticed a medium smokiness from the chipotles with light black pepper giving it complexity. Hints of cinnamon danced around with the other ingredients but was never dominant enough to become a major player in the overall taste factor.
Depending on the bite I took and where the pork meat hit my tongue, the chipotles were more noticeable sometimes and weren't as much during others. It didn't vary so much that I would call it inconsistent, but perhaps if the chile fragments were ground a bit finer this might have been eradicated.
The heat surprisingly built up after about 3 or 4 individual ribs. While never shooting above medium territory, Benito's Maple Chipotle Vermont Rib Rub is unmistakably a spicy seasoning for those comfortable with a small burn.
I did throw some BBQ sauce on one rib (an old reliable standby, Sweet Baby Ray's) and the flavors complemented each other decent enough. If I had my druthers, though, I'd druther chow down on pork ribs dry-style with Maple Chipotle Vermont Rib Rub on it than with a mixture of this rub and a sauce. As long as your meat is moist enough, Benito's seasoning and the smoke taste in the ribs should be sufficient enough.
Overall Taste:
4 out of 5.
What other foods could I imagine this rub being on? Chicken's a no-brainer, and a nice beef steak would be even nicer with Maple Chipotle. Pork shoulder? You bet. I think it would be a bit too bold, harsh and plain unpleasant on fish, but most other types of animal flesh would probably benefit from this rub.
Maple Chipotle Vermont Rib Rub can be purchased from http://www.benitoshotsauce.com for $10 plus $4.95 for shipping. I think this is a tad pricey for a small jar one would easily use up in two applications, but if you're craving a sweet and smoky taste it may be worth it for you.
Related Articles:
Spicy Food Reviews – Hot Sauce Reviews, Hot Snacks, Hot Wings, Seasonings, BBQ Sauces, Condiments, and More

Review – Benito's Original Naranja…. by Melinda @ www.fitandfabulouslife.com
1/26/10
This made an appearance for pretty much every breakfast
I was sent a bottle of some Benitos organic hot sauce to review
A 100% all natural blend made with organic orange habaneros, fresh orange bell peppers, garlic, carrots and white onions. Only for the serious hot sauce enthusiast. A uniquely satisfying habanero hot sauce.
About Benitos:
All sauces are made with all natural and organic ingredients. I don't use nonsense filler ingredients like xanthum gum, pepper mash, salt, sugar, flour, corn syrup, or any artificial flavors or preservatives. Our products are 100% sodium free. I also make all of my sauces in small batches, we do not us contract packers for the sake of quality control issues.
I tried it on a veggie buffalo wing- omgosh so good! It was hot but not overly spicy
I even added it to my hummus dip – I loved the extra added spiciness
THE HOT ZONE ONLINE BENITO'S HOT SAUCE – by JOHN PASSOW
Yep, that company name is still a blast to say. Originally this was to be just an email of my thoughts on his new sauce but since I had a little time today I've decided to do a full blown review of Benito's White Hot.
Benito's White Hot Ingredients: Organic Bhut Jolokia and Habanero peppers, lime juice, ginger, onions, garlic, vinegar, evoo.
The label isn't anything to comment on here because it's the test batch. Ol' Benito himself has assured me that the final label will match his other labels perfectly. Now onto the sauce, which has a beautiful, bone white color to it with small dots of red spattered amongst the finely pureed sauce.
Right off the bat the ginger hits, nice and sweet with a hint of fruity Habanero flavor. Then the Jolokia comes in with it's familiar tongue sear. The lime juice lightly plays on the sides of the tongue, with the garlic coming in on the after taste. There is a slight tongue coating that goes on from the Extra Virgin Olive Oil but it's not very much.
For a sauce who's first ingredients are Bhut Jolokia and Habanero, I was really expecting this sauce to have more heat to it. There's a nice sting from the Jolokia and a slight back of the throat burn from the Habs but it really doesn't go anywhere. For all intensive purposes it's about a solid medium, definitely a far cry from "White Hot".
Like his other sauces this one has classic Benito flavors throughout it. From the lime juice to the EVOO all the way down to the smooth taste that allows you to just spoon it out of the bottle into your mouth, these are the things that make his sauces great. That's what I like about them, he has a running theme, a signature taste that's incorporated into all his sauces and it works. Use this on top of ice cream, mixed into sauces, cook with it, or eat it right out of the bottle. Batches are up on his site for purchase now.
Taste: 9.5, Heat: 5
Review – Benito's Hot White Hot Sauce
Scott Roberts September 24, 2009 at 7:10 pm food
Benito's Hot Sauce, one of my favorite purveyors of flavor and heat, has struck gold…this time it's white hot. I'm talking about Benito's White Hot, the stingiest, kickingest, and possibly tastiest sauce of his I've consumed to date. It arrived in the nick of time, for I had been going through a Benito's withdrawal for a few months (yes, even I can get lazy and forget to order my favorite sauces).
Ingredients: Organic bhut jolokia and habanero peppers, lime juice, ginger, onions, garlic, vinegar, EVOO
After looking at White Hot's ingredients rundown, it made me think…I'm not a guy who gets on his high horse and rails against additives, preservatives, and thickening and suspending agents being put into sauces, with the caveat that their usage actually helps the sauce in some manner, like making it stay editable longer. But with proper storage and refrigeration (and a little bottle shakin' to disperse the contents a bit), you almost always don't need this kind of stuff. Benito certainly knows this and is able to make some of the best sauces on this li'l green earth without resorting to additives.
Aroma: 4 out of 5. A beautiful blend of garlic, onions, and chiles, with a backend of sweetness.
Appearance and Texture: 3 out of 5. Benito's White Hot Sauce looks like few other hot sauces I've ever seen. It's a pale yellowish color and almost looks like watered-down applesauce. Or even banana baby food. With tiny red specks. Not the most appetizing in look but it gets the job done. It has a medium/medium-thin consistency and would go well with a number of applications, whether they call for a medium-thick or thin sauce.
Taste Straight Up: 5 out of 5. Delicious. At first lick, there's the base sensation of fresh ginger and lime juice and than a flaming brick wall of tartness and heat slams against you. All in all you get a great fresh flavor that's a Benito's trademark with a sweeter, fruitier taste than other sauces of his.
I must mention that while the all-natural ingredients make the grade, this will seemingly be "bland" in taste to some, despite that fact that garlic, vinegar and chiles put in noticeable performances. If you must absolutely have a punchy, salty and bold sauce than this probably won't be very satisfying. Expand your horizons and you may have find a great sauce in White Hot.
Taste on Food: 4.5 out of 5. Pizza for breakfast? Common occurrence for me. Some type of hot sauce or crushed chile seasoning on pizza is a must. This morning was White Hot's turn. I loved every bite of it on there and it added a bright, fresh and fiery flavor to my morning meal.
Suggested Uses: This may not be as versatile of a sauce that Benito's Original Naranja was, and perhaps may not upsurp it as my overall favorite Benito's product. But it's still worthwhile to apply it to many of your dishes. Scrambled eggs would be a no-brainer with this sauce. A wide variety of Asian foods would also benefit from White Hot's heat, garlic and ginger flavors. Even pasta with cheese or a cheese sauce (from macaroni to fettuccine and beyond) might also be worth having several shakes of White Hot blended in to give it a kick. And how about some tender, flaky grilled or baked fish lightly coated with White Hot? That's a "must-try"!
Heat: 3.5 out of 5. There's a powerful burn from this sauce. It hits you within one or two seconds of eating and lingers for a minute and steadily drops off. I felt the heat mostly on the tongue. But despite the presence of bhut jolokias – the hottest peppers in the world – and the ever reliable habaneros, this definitely is not overwhelmingly hot for fair-weather chileheads. I think the amount of heat is just right for the amount of flavor in White Hot.
In Conclusion: Benito's White Hot is a top-notch hot sauce and gets my highest recommendation. You can purchase a 5 ounce bottle at Benito's Hot Sauce website for $6.00 plus $4.00 more for shipping. I'd say that $10.00 is worth it for what I consider one of the best sauces of the year.
Benito….Baaaaaaaaanito….Benito! Neat-o Benito! See, it's just fun saying the name of this hot sauce company. Well, enough fun, time to get to work. Benito's Hot Sauce is a company that's trying to do as much organic ingredients as possible in a wide range of products. I was sent four of their sauces to review to get a feel for the company. Right off the bat I have to applaud what he's doing with the organic area. There really is a void in this area of the business that needs to get filled.
It has been a while since I did a 4-in-1 review so I'll just go over the usual for the readers. For each sauce I'm going to do a quick flavor and heat run down and at the end give my over all impression. Ready? Set? Too late! I've already started! Hahahahaha, slow pokes.
Benito's: Joe's #1 Jalapa Ingredients: Organic lime juice, Jalapeno peppers, ground organic Red Habanero peppers, Cubanelle peppers, white onions, garlic, cilantro (fresh coriander), organic extra virgin olive oil, distilled white vinegar.
Benito's: Old Bricktucky Cayenne Ingredients: Organic lime juice, organic cinnamon, organic Cayenne peppers, organic Paprika, organic extra virgin olive oil, Red Bell peppers, distilled white vinegar, Roma tomatoes, white onions, garlic.
Benito's: Mango Habanero Ingredients: Organic lime juice, organic Orange and Red Habanero peppers, organic mango nectar, organic extra virgin olive oil, Yellow Bell peppers, white onions, garlic, distilled white vinegar.
Benito's: Original Naranja Ingredients: Organic Orange Habanero peppers, organic carrots, organic lime juice, organic extra virgin olive oil, Orange Bell peppers, white onions, garlic, distilled white vinegar.
Benito's: Joe's #1 Jalapa is first up with it's lime green coloring. Right up front comes the lime juice which mixes in and then gives way to the fruity Habanero taste and the sweetness of the Cubanelle peppers with a little Jalapeno flavoring interspersed. Then the onions come, followed by the garlic with a little vinegar presence on the back end.
The heat is a little higher than your typical green sauces and mainly hits in the center of the tongue. It's a good sauce for certain things like scrambled eggs but it's limited in it's uses due to the large presence of lime juice. I also like the guy on the back of the label relaxing by a stream. It gives you a good sense of what this sauce is all about; Waking up early in the morning, fixing up some eggs with the sauce, then going out and having your morning beer…err
Review – Benito's Mango Habanero, Joe's #1 Jalapa, and Old Bricktucky Hot Sauces
Scott Roberts March 29, 2009 at 1:17 pm food
In this review I'll try out three more of Benito's colorful, organic hot sauces – the green Joe's #1 Jalapa, the yellow Benito's Mango Habanero, and the orange Old Bricktucky Cayenne. Because of the high marks I had previously given to the Naranja Organic Hot Sauce, I had lofty expectations for these other offerings.
Ingredients:
Old Bricktucky Cayenne – Organic Tomatoes, Organic Garlic, Organic Onions, Organic Lime Juice, Organic Distilled White Vinegar, Organic Cayenne Peppers, Organic Cinnamon, Organic Paprika
Joe's #1 Jalapa – Jalapeno Peppers, *Habanero Seeds, Cubanelle Peppers, *Garlic, *Carrots, Cilantro, Lime Juice, Distilled White Vinegar, Extra Virgin Olive Oil, Spring Water. *Organic
Benito's Mango Habanero – Organic Habanero Peppers, Mangos, Organic Garlic, Organic Yellow Tomatoes, Bell Peppers, Organic Lime Juice, Distilled White Vinegar, Onions, Extra Virgin Olive Oil
Aroma:
4 out of 5. One thing that is a trademark of Benito's sauces is the insanely fresh vegetable smell (and taste). Each one of these is wonderful in their own right. Joe's #1 Jalapa has a mild aroma of carrots, lime, chiles, and light vinegar. Benito's Mango Habanero is brighter and sweeter to the nose. Old Bricktucky has darker tones, while maintaining a distinctive sweet and peppery scent.
Appearance and Texture:
4 out of 5. Each sauce contains roughly ground up mash of ingredients, giving them a simultaneous pasty/watery texture. Meem's and Joe's are a bit more runny than the Old Bricktucky. All came with plastic droppers attachments to snap on the end of the bottle openings, but since I wanted to splash on a heapin' bunch I didn't bother putting them on.
Taste Straight Up:
4.5 out of 5. First up at bat was Joe's #1 Jalapa. Like it's delightful aroma, it had a fresh blend of lime, peppers, and carrots with balanced amounts of vinegar and garlic. It's much more subdued compared to other sauces that contain elements of jalapeno and habanero but retains a good deal of fire. I can imagine this sauce going on a wide variety of foods.
4 out of 5. Benito's Mango Habanero is much different than any other mango habanero sauce I've ever tried. This is like a fresh tropical garden in your mouth with fire to spare. It's bright, tart, sweet, and slightly vinegary. In my mind, this may not be as versatile as Joe's #1 Jalapa, but fish and pork could benefit from the Mango Habanero.
5 out of 5. Old Bricktucky possessed an odd sweet taste. At first, I couldn't put my finger on it. Was it pumpkin spice? Nutmeg? I looked at the label again. Ah, it was cinnamon! It's a unique taste that quickly grows on you after a few licks, and is nearly additive. Old Bricktucky has all the other attributes of other Benito's sauces: a veggie-dominated taste, with hints of tomatoes, garlic and vinegar. This had the least amount of heat of the three, and was probably my favorite. It would go well with pizza, meat, and maybe even popcorn.
One note I must add is that all of these (just like the Naranja Organic Hot Sauce) have a complete lack of any salty taste. This may be jarring to some who have a preconceived notion that hot sauces should be salt n' vinegar fests, and may taste too "plain" for them. Nonsense, I say; the vegetables uses in making these sauces are more than adequate for flavoring them up.
Taste on Food:
One of the standard tests I give hot sauces is whether or not they stand up on chicken wings. My wife and I fried up some whole wings (with the tips removed), both hot wing-style (naked) and buffalo-style (breaded), to see how the trio of Benito's products would compliment them.
First I poured the Mango and Joe's on the naked wings and the Bricktucky and Frank's Red Hot (as a "control") on the breaded pieces, and later switched the type of chicken for the sauces to give each one a fair chance. The flavor was great on the buffalo wings, but the watery/mashy consistency permeated and softened the breading instead of "sticking" to it, so I would have to knock off a point for this. I thought all three sauces were terrific on the fried naked wings, although I was thinking deep down (even though it was a small gripe) that "something" was missing – along the lines of a creamier, thicker wing sauce would have been a little more ideal. Was there something that these would even go better on?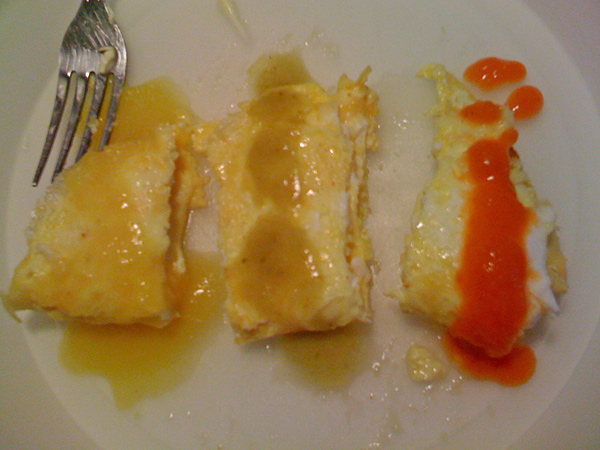 I think I hit the bulls-eye the next morning with a fluffy omelet. I cut it into three sections, liberally doused them with the sauces, and scarfed down each succulent bite. This was perfect and I couldn't imagine any other condiment being any better on eggs. Awesome!
Heat:
Benito's rarely ever makes claims on heat amounts as simply lets the sauce be what they are. All have enough fire that would please pepper fans but might be too much for milder tongues. On a scale of 1 to 5, all would click in at around 2.5 or 3 and have a slow, building hotness. There have been times in the past where I wished other sauces had a bit more or a bit less sizzle to make it seem "balanced" with the overall taste. Not Benito's. These were right on the money with the burn.
Label:
3 out of 5. All of Benito's products have labels covered with photographs and a cacophonous splattering of fonts (that makes most text difficult to read). While this does make these hard to miss if I was searching for them on a store shelf, in my humble opinion it comes across as slightly amateurish.
Oh, and what's the deal with the shirtless guys on the Old Bricktucky label?
Overall:
I don't know how much research, trial, error and elbow grease went into finding the formulas for Benito's hot sauces, but they should be applauded for their work. Every sauce is top-notch and worthy of being in your refrigerator, whether you use it as an "everyday" condiment or as something you just use to spice up your meals every now and then. All sauces come in 5 ounce bottle and are available at http://www.benitoshotsauce.com for $5.00 plus shipping.
Review – Benito's Naranja Organic Hot Sauce
Scott Roberts December 30, 2008 at 7:01 pm food
Benito's Naranja Organic Hot Sauce
Ladies and gentlemen, I'm a sucker for vegetable and carrot-based hot sauces. You give me a good one and I'll keep coming back like a sad little puppy dog begging for more. Now up at bat is Benito's Naranja Organic Hot Sauce, a tasty-looking concoction that uses fresh organic and all-natural ingredients.
Ingredients: Onions, Tomatoes, Carrots, Garlic, Vinegar, Lime Juice, Cayenne, Jalapeno, Habanero, Serrano, and Thai Peppers
Aroma: 4.5 out of 5. Very fresh and light. I sensed hints of vinegar and garlic, blending in with a pleasing vegetable aroma. I'm not joking; after a few sniffs of Naranja, my mouth started to water.
Texture and Appearance: 4 out of 5. Naranja is a bright orange (of course, naranja is Spanish for the color orange), probably due to the presence of carrots. The sauce in my bottle contained very, very few minuscule dark specs amongst the pure orange mix. It's consistency is a ground-up, mashed fusion of veggies, peppers, and watery liquid. It's simultaneously runny, clumpy, and pasty. My review bottled came with an optional plastic dropper piece to fit on the top of the bottle. I didn't use it for my review, as I wanted to get a sizable dose of the sauce on my food; but for proceeding uses, the dropper was fine, for the sauce is thin enough to allow enough to be dispensed with each shake.
Taste Straight Up: 5 out of 5. I poured a small puddle of Naranja on my plate and fingered some into my mouth. Immediately there was a blast of some of the freshest, strongest, tangiest vegetable flavors I'd ever had the pleasure of placing on my tongue. If I hadn't known any better, I could have sworn someone had just picked some produce straight from the garden and made a nice picante salsa.
I noticed there was a complete lack of a saltiness (I guess some sauce makers rely on the white stuff in their condiments that my mouth was expecting it) and it made Naranja taste relatively bland by comparison. A moment later, though, unexpected high notes slowly materialized: the tartness of the vinegar and lime juice, small peeks of onion and garlic, and the slight searing sting of peppers. It seemed bizarre that these flavors didn't come out for the first few split-seconds of time. It's akin to a gorgeous swimsuit model being in a darkened room. First, you would shine a flashlight on her wonderfully tanned and toned stomach. Attractive, but incomplete. Then, someone would turn up a dimmer switch for a ceiling light to full brightness to reveal of of the most beautiful sights your little eyes have ever seen. In Naranja's case, it's your taste buds drinking in all that delightfulness.
Taste With Food: I shook generous amounts of Naranja on a flatbread wrap with grilled chicken breast chunks and melted monterey jack cheese. Good God, was it good!
Ever since I acquired my bottle, I've been dousing this sauce on just about everything I've consumed, save for my morning coffee. I can't get enough of it!
Serving Suggestions: I could think of a hundred great culinary applications for Benito's Naranja Organic Hot Sauce, but why don't you grab a bottle and see for yourself?
Heat: 2 out of 5. It's got medium-level heat. I was expecting a bit more fire because of the habs and thai peppers, but since the sauce tastes so great it's certainly not a letdown. The heat hit the front of my tongue and lingered for a while after eating.
Label: 2 out of 5. It shows a peaceful outdoor scene, and on the back a photo of a man (Benito?) lazily sitting by a river. For some reason, it really doesn't represent contents of the bottle.
Overall: Like the label states, Benito's Naranja Organic Hot Sauce is "A Delectable Addiction".Benito has really hit on something special here. Again, I love carrot-based hot sauces – in particular, Tabasco's Tabanero, but this may be the best of it's kind I've ever eaten.
You can get the goods at http://www.benitoshotsauce.com/